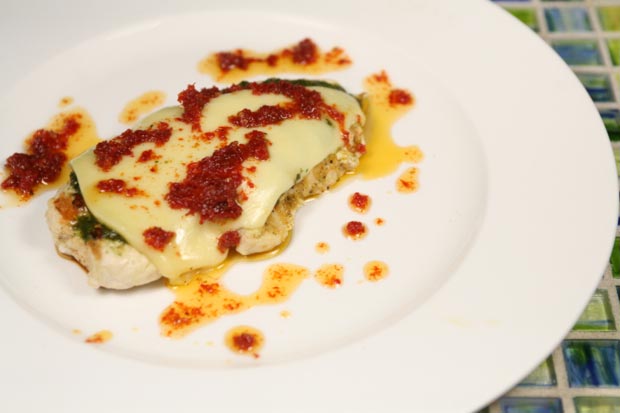 I love to barbecue, or should I say I love it when my husband barbecues, but right now with moving our place is too packed with boxes to even find my BBQ. So today for this recipe I used my Cuisniart Griddler. By all means feel free to use your BBQ, but I have to tell you that this little Griddler finished this recipe in just five minutes flat! This is a super easy recipe that will dress up any boring grilled chicken breast.
Ingredients:
2 large Chicken Breasts, pounded flat

pinch of Salt, Pepper, and Poultry Seasoning
2 tablespoons Pesto
5 Sun Dried Tomatoes, puree
2 thin slices of White Cheese, I used Swiss Cheese
Season chicken breast with salt, pepper, and poultry seasoning. 
In a Griddler or BBQ cook chicken breast until almost cooked. 
Top with pesto. 
Spread pesto across the chicken or if using a Griddler simply close the lid.
Top with cheese.
Close the lid on your BBQ to melt the cheese. If you use a Griddler like me use a shot glass, or something about the same height, to prop the hot plate above the chicken without touching the cheese. This will help to melt the cheese quicker.
Serve with sun-dried tomato puree drizzled over the top. 
Enjoy!