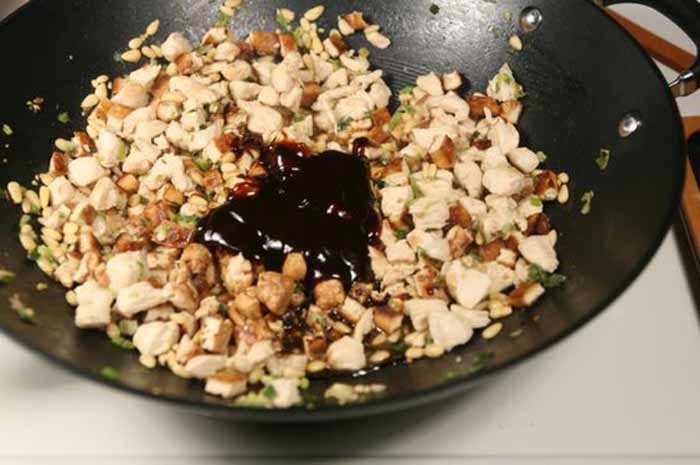 A restaurant in my area inspired me to create these Chicken Lettuce Wraps. I always use to order these when we went there to eat because I assumed the wraps were Low in Carbs. Little did I know that the main ingredient in the sauce was hoisin sauce that is full of sugar!
This lead me to try to make a mock version of this great dish with a mock hoisin sauce that is Low Carb. I am not really one for making many Asian inspired meals, but I have to admit that I love these wraps. I also love that this dish is a mix of chicken, pine nuts, and tofu.
These are great for lunch or dinner. Your family will love these!
Ingredients Chicken Lettuce Wraps:
1 tablespoon Vegetable Oil
1 bunch Green Onions, diced
3 tablespoons Mock Hoisin Sauce (mix together all ingredients listed below and add only 3tbs to this recipe, reserve the rest for a sauce on the side)

4 tablespoon Soy sauce,dark
2 tablespoon no sugar added Peanut butter
1 tablespoon Splenda
2 teaspoon White vinegar
1/8 teaspoon Garlic powder
2 teaspoon Sesame seed oil
20 drops Hot Sauce
1/8 teaspoon Pepper

2 tablespoons Sesame Oil
1 tablespoon Soy Sauce
1/2 cup Pine Nuts
1 block Smoked Tofu, diced into small cubes
1lb Raw Chicken Tenderloins, diced
1 teaspoon Asian Chili Sauce (optional)
Instruction:
In a large wok (or rounded skillet) add vegetable oil. 

On medium-high heat add green onions and garlic. 
Add tofu and pine nuts. 
Add mock hoisin sauce, sesame oil, soy sauce, and chili sauce. Remove from heat and mix well.

Serve with plenty butter lettuce leave. Enjoy!