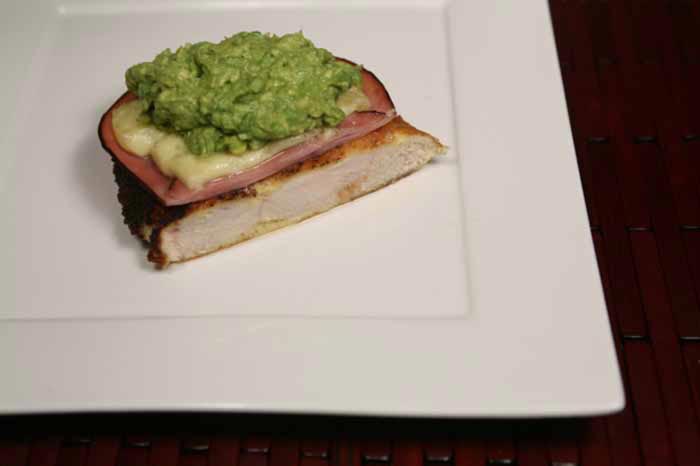 This is my husband's favorite dish. It consists of a chicken breast that has been breaded in parmesan cheese and topped with ham, brie, and mashed avocado. I like to refer to this creation as a club sandwich gone gourmet. I have found that for most recipes that call for breading you can substitute Kraft parmesan cheese and in my opinion tastes way better than breading ever tasted. Panko bread crumbs have nothing on parmesan cheese. When living a low carb lifestyle you have to start cooking with the food you can eat, not trying to replace something you shouldn't be eating in the first place. This is one of the first true Low Carb recipes that you created and it is still one of our favorites. I hope you love this recipe as much as my husband!
Ingredients:
2 Chicken Breasts, pounded flat
2 eggs, beaten
1 cup Kraft Parmesan Cheese
1 tablespoon Garlic Powder
1 teaspoon Ground Pepper
4 thin slices of Ham
4 slices of Double Cream Brie
1 Avocado, mashed
1/2 teaspoon Garlic Salt
In two shallow bowls place the beaten eggs in one and parmesan, garlic powder,  and pepper in the other. 

Repeat.

In a non-stick skillet flash fry the chicken in melted butter till golden brown. 
Place the chicken breasts on a baking sheet, cover with the ham, and finish cooking in the oven until they reach an internal temperature of 150°f. 
Top with ham and brie. 

Place the chicken back in the oven on a high broiler setting and broil until the brie is melted and bubbly.

Mix the mashed avocado with garlic salt and serve on top of the chicken. Enjoy!